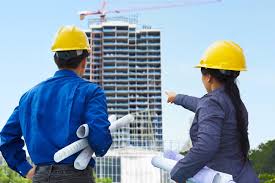 The industrial training refers to the work experience that is relevant to professional development prior to the graduation. The objective of the Industrial training is to bridge the gap between the classroom and the industry and to orient them to the world of work. It is designed to provide the students the necessary exposure and opportunities to build up skills and confident to work in the industry. This is scheduled in their last semester (Year IV Semester II) of the degree programme and the respective specialized students will be sent to various selected training institutions related to their field of specialization for a period of 16 weeks. This training is jointly handled by the Industrial Training Unit (ITU) of the Faculty of Geomatics and the National Apprentice and Industrial Training Authority (NAITA) of Sri Lanka.
The students are assigned to each industry placement based on their preference and prioritized based on their prevailing GPA value. The faculty has the sole authority in the final selection process. Here, the student must attend two workshops on 'Industrial Training & Its Expectations' and 'Effective CV Writing & Interview Facing' conducted by the faculty ITU and the Career Guidance Unit of the university and the 'Training Placement Seminar' arranged by the NAITA, prior to the commencement of their training. Each student must complete the training contract with the industry establishment and send to NAITA within two weeks time after commencement of their training. Both ITU and the NAITA conduct the site inspections time to time and it is the duty of the respective student to keep informed on their working site locations to ITU or NAITA.
The students must maintain the training diary in regular basis and always carry it during the day to day training time. Finally, students must produce a compressive training report at the end of the training period and face a viva examination. The viva panel comprises of faculty, NAITA and Industry members. Each student must score minimum of 50% in order to pass the training.