Sub-bottom profile survey along the Kelani River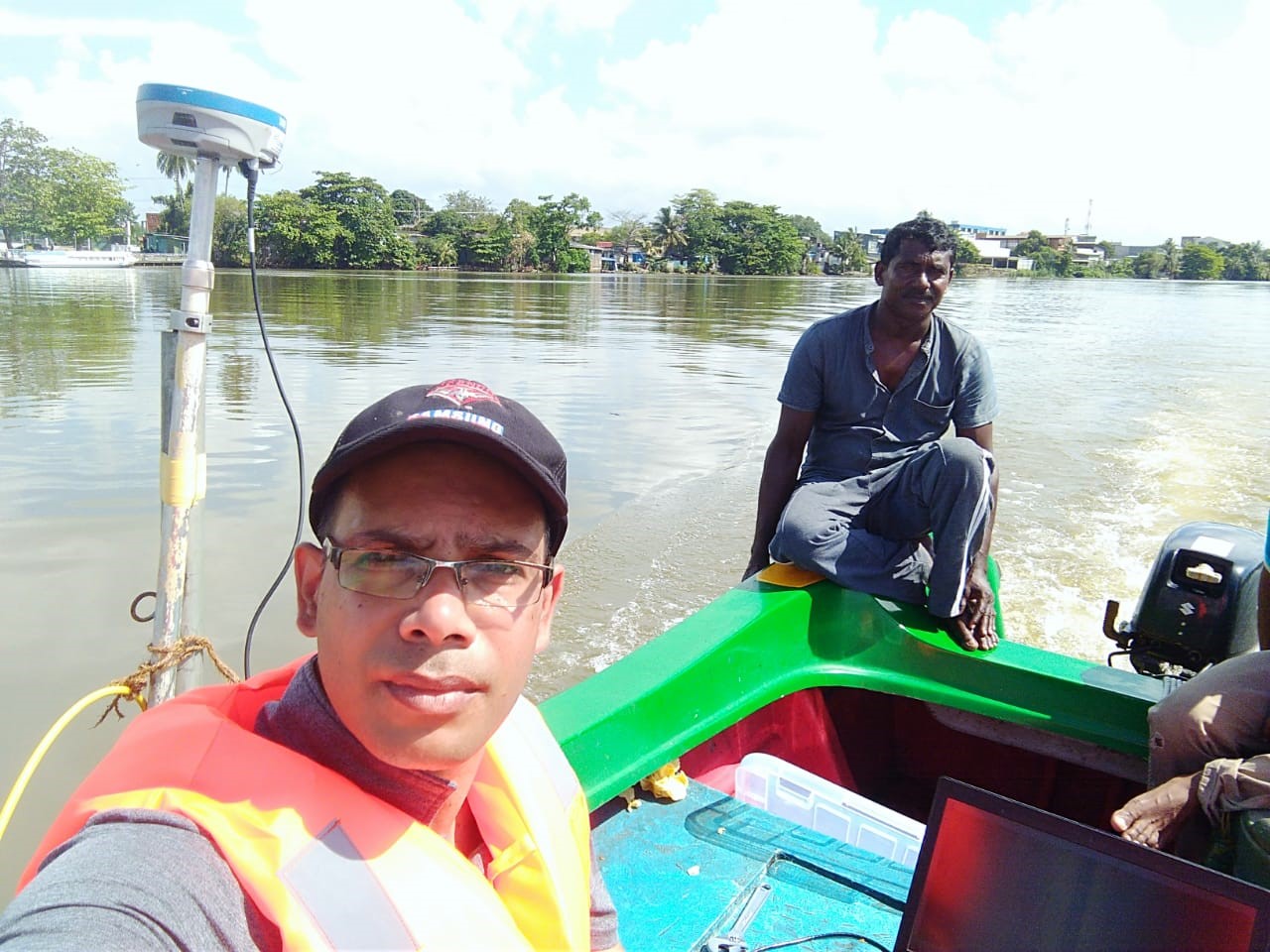 Raw Sub-bottom data.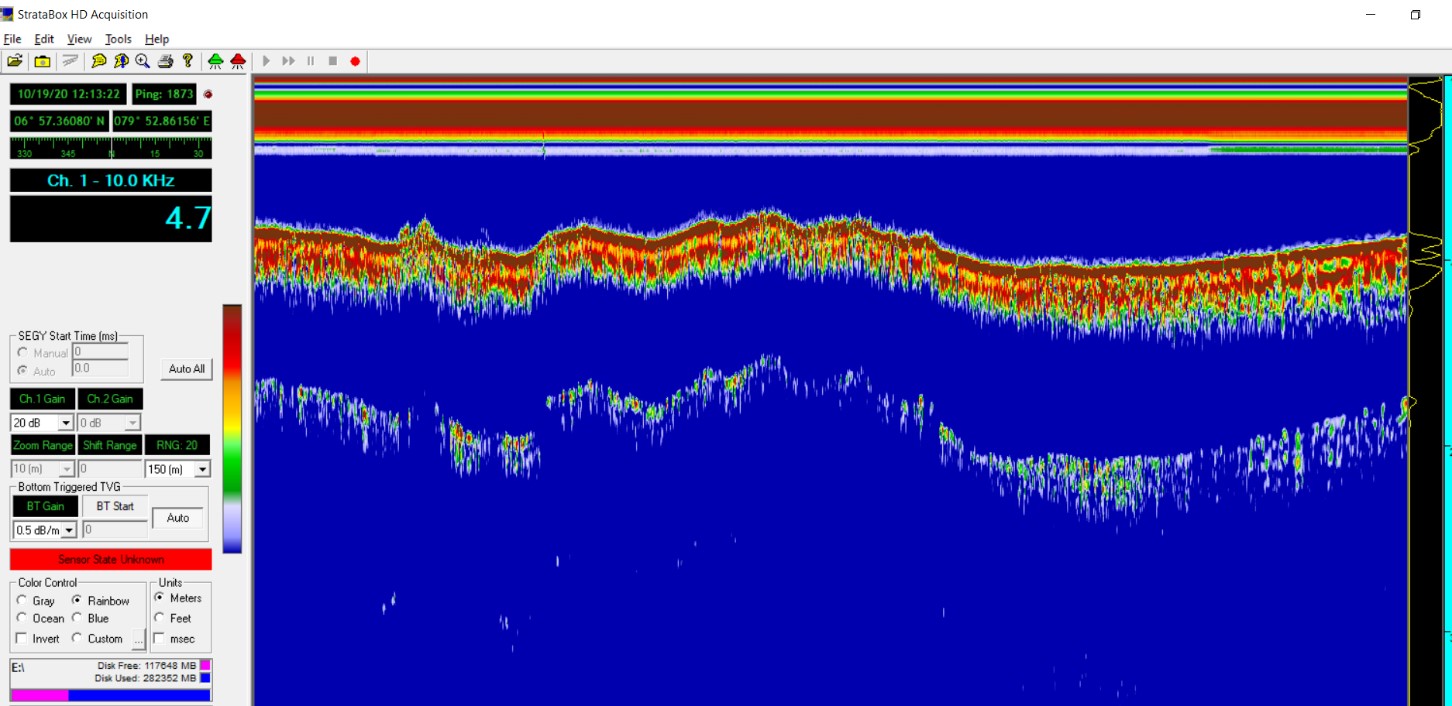 Processed SSS Mosaic with Google Earth Image.
"Hydrographic Survey Across the Kelani River for Assessing the Feasibility of Laying 04 Nos. of Underground Power Cables by Ceylon Electricity Board: CE (SC&M) PHM/DD2/Q/67/2020"
Investigators
Dr MDEK Gunathilaka and Mr. AND Perera
Faculty of Geomatics has successfully undertaken a consultancy project in assessing the feasibility of laying underground power cables across the Kelani River by Ceylon Electricity Board. The project team comprised with Mr. AND Perera and Dr. MDEK Gunathilaka who are senior lecturers from the Department of Surveying & Geodesy. They have conducted a detailed sub-bottom profile survey across the river in order to investigate the possible depths to lay the power cables safely. Further, a side scan sonar survey was also conducted to investigate the entire river bed area. This revealed the strength of the Faculty of Geomatics in addressing the current industry requirements in the hydrographic sector.
Mi Oya Project Scope.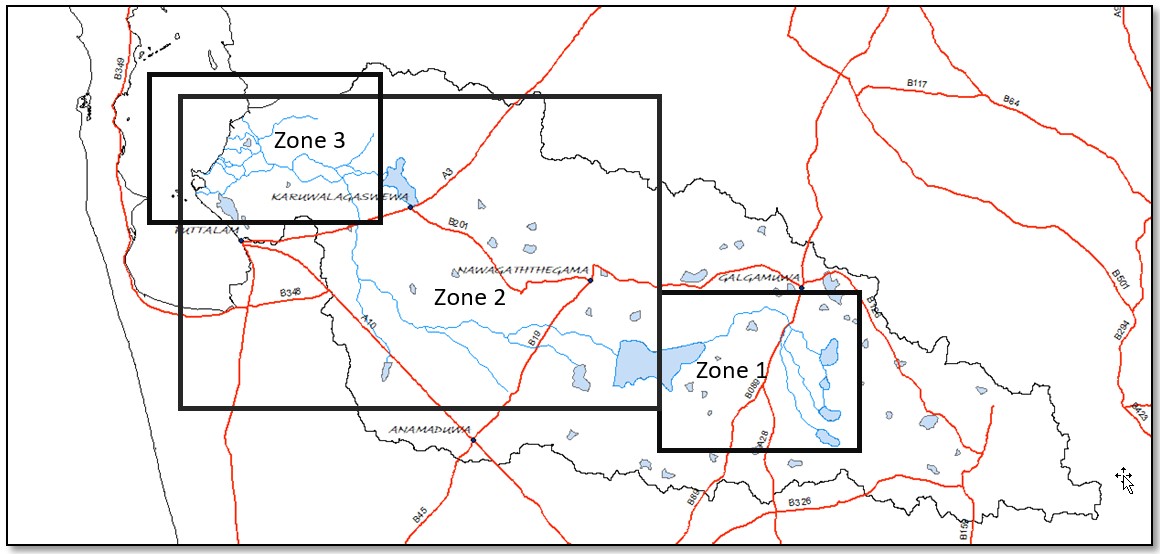 Site investigation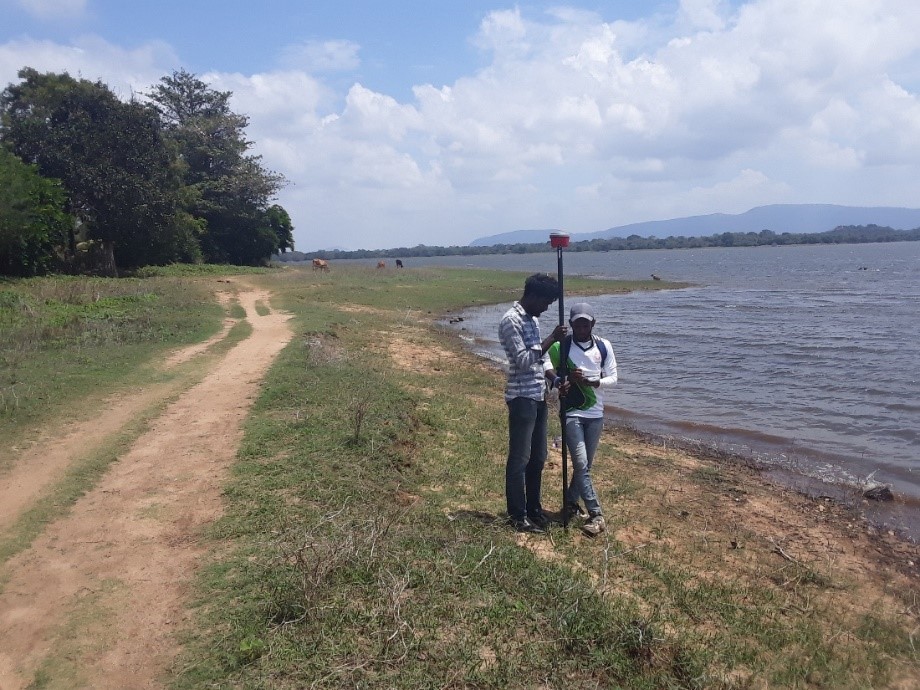 Site investigation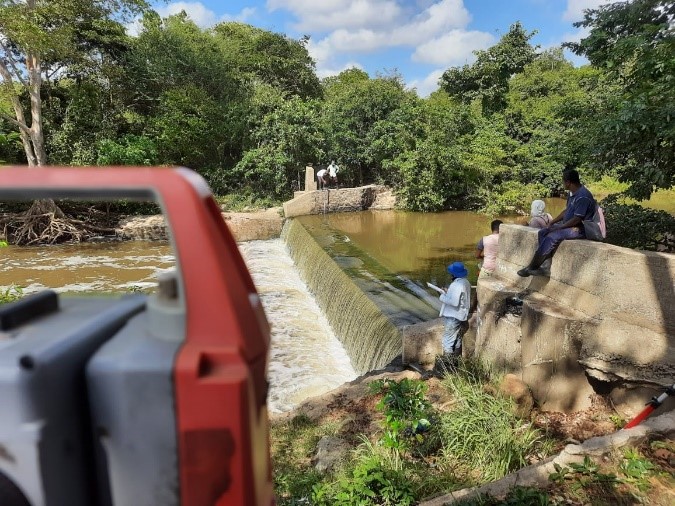 Flood plain feature surveys with total station and RTK GNSS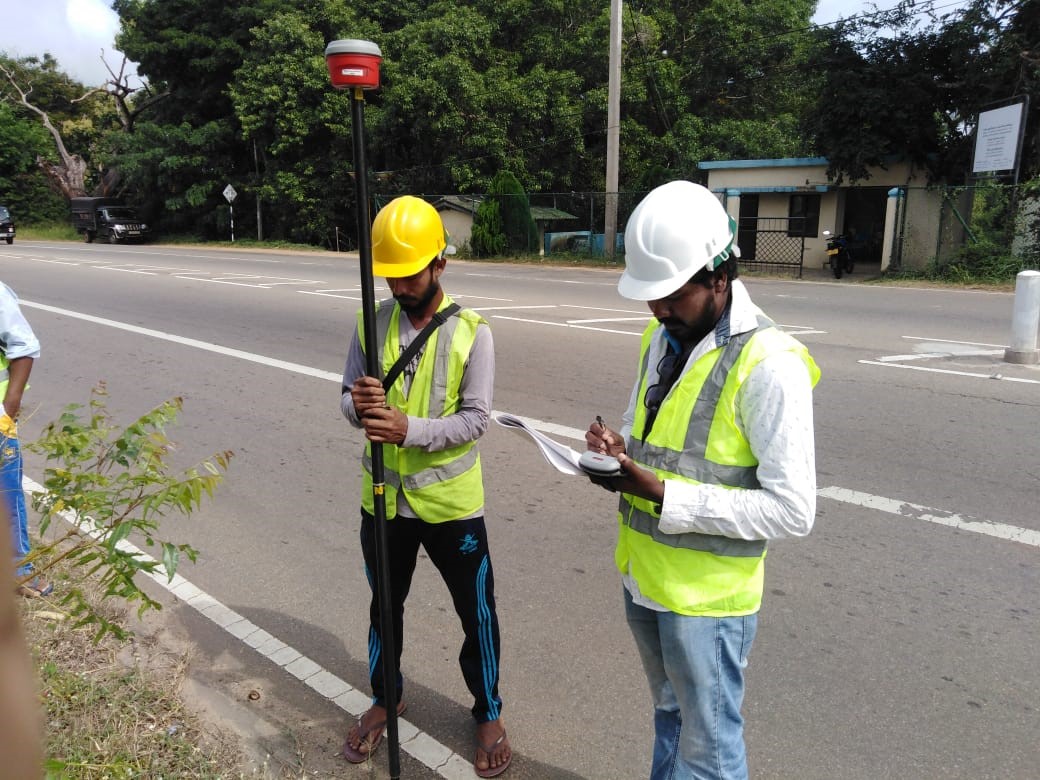 Conducting Bathymetric Surveys using Singlebeam Echosounder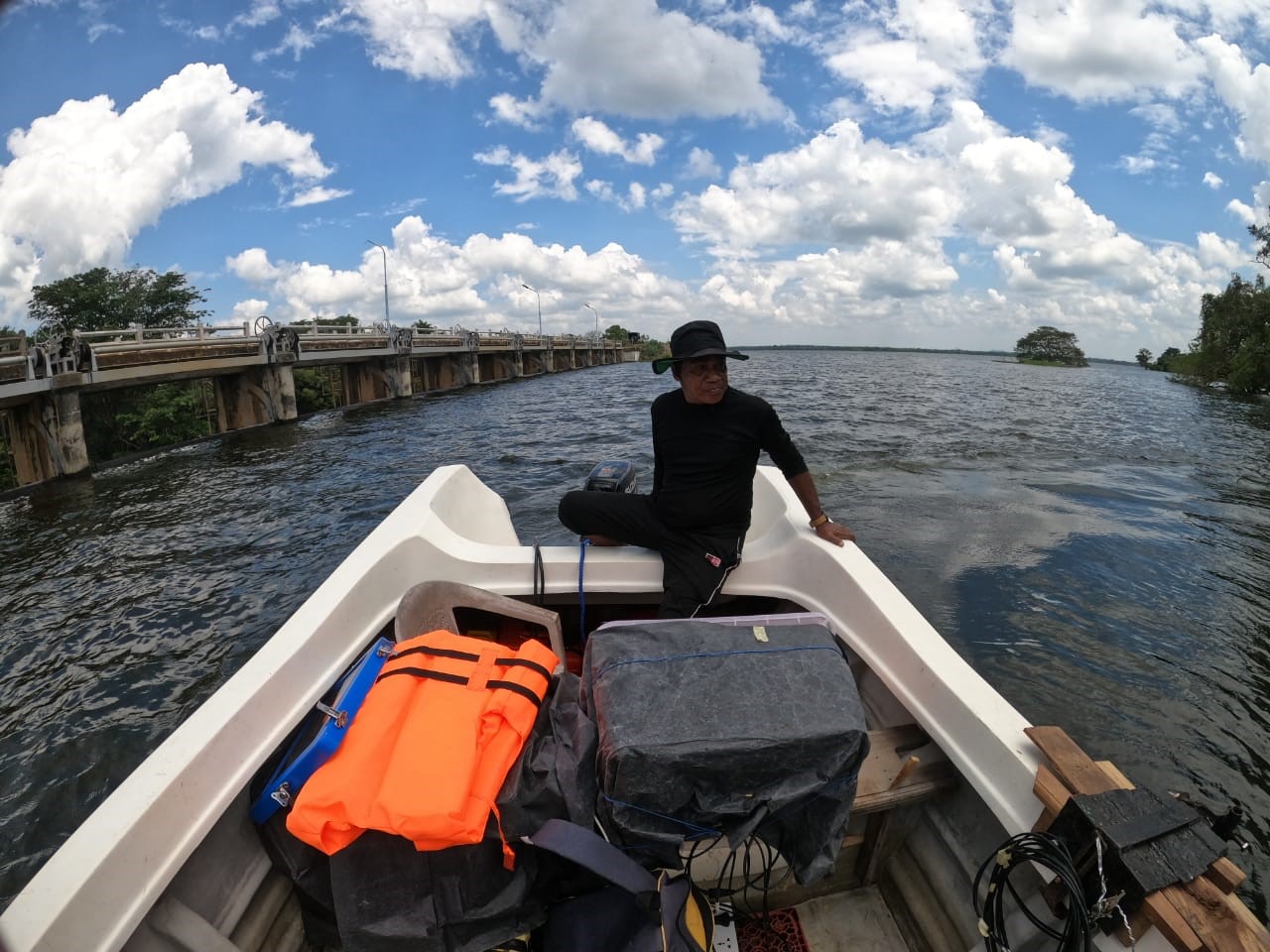 "Mi-Oya Flood Plain Survey Project by UNDP (GCF/2019/UNISABARA"
Investigators
Dr MDEK Gunathilaka Mr. AND Perera and Dr. PGRNI Pussella
This project was initiated in January 2020 and completed in May 2021. It was awarded by the United Nations Development Programme (UNDP) of Sri Lanka and funded under the Climate Resilience Integrated Water Management Project (CRIWMP), World Bank. The aim of this consultancy project was to conduct surveys to gather cross sectional data of Mi Oya and its flood plain, flood plain feature surveys, tank bed surveys and river estuary survey in order to develop a flood simulation model and early warning system. Here, the entire project area was divided in to 3 zones due to its complexity.
Records state that nearly 08 DS divisions in Kurunegala and Puttalam are affected by floods. Therefore, adoption of suitable flood model will further enhance the flood water management and warning generation capacity of the Irrigation Department and related stakeholders. This survey will provide required survey data to run the flood model in the Mi Oya basin. The flood modelling part will be done by the Faculty of Engineering, University of Peradeniya.
This project was coordinated by Dr. MDEK Gunathilaka and Mr. AND Perera and Dr. PGRNI Pussella were among the project team from the Faculty of Geomatics. RTK GNSS surveys and Total Station surveys were conducted to collect the data along the Mi Oya flood plain. Singlebeam echosounder surveys were conducted for tank bed surveys and river estuarine survey. Final DEM of the area was also prepared according to suite the flood modelling software.
This was a great opportunity to engage with the industry as an institution as well as to expand the capacity of the staff. Further, a two weeks long undergraduate field practical programme for BSc (Surveying Sciences) (Hydrographic Surveying) was also facilitated through this project and also several undergraduate research projects has also planned. Apart from that, the items purchased, worth over Rs.1 million, including the survey boat were donated to the university.
"Shaping the Strategic Direction of the Surveying Profession in Sri Lanka"
Investigators
Dr HMI Prasanna and Dr MDEK Gunathilaka
"This study focusses on investigating the emerging trends within the land surveying profession, its relevance and future directions in Sri Lanka. The study employed a two-stage, qualitative and quantitative research design. The first stage employs in-depth interviews with selected surveyors, educators, business professionals and government bodies followed by an online survey of all surveyors and selected educators and business professionals. This research is expected to complete in October 2018 and Dr HMI Prasanna and Dr MDEK Gunathilaka are the investigators of this research project and it is funded by Sabaragamuwa University Research Grant (SUSL /RG/2016/1)".
"Development of a Unified Vertical Reference Framework for Land and Hydrographic Surveying in Sri Lanka"
Investigators
Dr HMI Prasanna, Dr MDEK Gunathilaka and Dr DR Welikanna
"This research project is funded by the National Science Foundation (RG/2017/EA & ICT/01) for two years: from 2017 to 2019. Dr HMI Prasanna, Dr MDEK Gunathilaka and Dr DR Welikanna are the investigators of this research. As in many countries including Sri Lanka, a consistent height datum across the land and sea interface is not being derived. Usually, the chart depths are referenced to Chart Datum which is usually the Lowest Astronomical Tide and land heights are referenced to a land vertical datum like Mean Sea Level. These different vertical datums result in inconsistent datasets and create considerable difficulties in integrating and analyzing data at the coastal zones. Therefore, the solution lies in developing a separation model from which users can transform data between different vertical datums".
"An Investigation into Sea Level Rise in Sri Lankan Waters with Satellite Altimetry"
Investigators
Dr MDEK Gunathilaka and Mr KKWS Kannangara
"The aim of this research project is to analyze the long term sea level changes around the Srilankan waters and to quantify the trend statistically using the observed tidal gauge data and altimetry sea surface heights. Previous studies conducted in various regions have confirmed that the sea level has risen during the 20th century and still rising at a global scale. The main driving factor is the global warming phenomenon. There are numerous impacts due to the sea level rise to the coastal environment in the future such as beach erosion, inundation of land, increase flood and storm damage, increase salinity of coastal aquifers and coastal ecosystem lost. This research is also funded by Sabaragamuwa University Research Grant (SUSL/RG/2015/2) and the investigators are Dr MDEK Gunathilaka and Mr KKWS Kannangara".