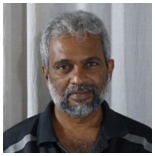 Professor PI Yapa

Position: Professor
piyapa@agri.sab.ac.lk
Qualifications
Doctor of Philosophy in Soil and Environmental Sciences, Department of Soil Science, The University of Reading, 2003
Master of Science, Department of Soil Science, University of Peradeniya, 1996
Bachelor of Science, Faculty of Agriculture, University of Peradeniya, 1990
Postdoctoral Experience
The University of New England, March/2014 to Sep/2014 NSW, Australia
Agriculture and Agri-Food Canada, Brandon, MB – December 2004 to December 2006
---
Profile
I am the first Professor in Ecological Agriculture in Sri Lanka, due to my extensive international and national contribution, experience, knowledge, and international collaborations in the field of ecological agriculture. I also possess vast experience in organizing, implementing and handling of large-scale, multi-disciplinary projects, both at national and international levels. I have successfully completed a number of research projects with grants obtained from various funding sources.
---
Research Interests
Ecological Agriculture
Forest die-back studies
Soil Remediation and Rehabilitation
Urban Waste Management
Mitigation of Green House Gas (GHG) emission in Agriculture
---
Current Research Projects
SUSL/RG/2016/04 "Environmentally Induced Forest Die-back in Horton Plains: Sources of Contaminants, Their Fate, and Mitigating Toxicity with Natural Geo-sorbents." 2017 – 2019 (3 years), Sabaragamuwa University of Sri Lanka (Principle Investigator)
---
Recent Publications
Refereed Journals
Gunadasa, H. K. S. G. and Yapa P. I. (2015). Forest Dieback as Affected by Soil Pollution with Special Reference to Montane Forests - A Review, International Journal of Plant and Soil Science.
Gunadasa, H. K. S. G. and Yapa, P. I. (2015). Soil Chemical Quality and Forest Dieback. International Journal of Environmental Science and Development. 6(1).
Moulin, A. P., Glenn, A., Tenuta, M., Lobb, D. A., Dunmola, A. S., and Yapa, P. I. (2014). Alternative transformations of nitrous oxide soil flux data to normal distributions. Canadian J. of Soil Sci. 94(1): 105-108.
Yapa, P. I., Gunadasa, H. K. S. G., Ranasinghe, G. N. L. M. and Wijesundara, W. R. A. T. P. (2013). Ecological agriculture as a sustainable alternative to green revolution–type agriculture in the north central province of Sri Lanka, International Journal of Agricultural Science and Development.
Gunadasa, H. K. S. G, Yapa, P. I., Nissanka, S. P., and Perera, S. P. (2012). Soil Pollution and Forest Dieback: Will the Compost and Mycorrhizal Treatments be Effective in Mitigating Forest Dieback, International Journal of Chemical Engineering and Applications vol. 3, no. 2, pp. 108-113.
Yapa, P. I., Gunadasa, H. K. S. G. (2012). Mitigation of Soil Pb Toxicity by Soil Organic Matter. International Journal of Agriculture Innovations and Research, Volume 1, Issue 3, ISSN: 2319-1473
Refereed Conference Proceedings
Gunadasa, H. K. S. G. and Yapa, P.I. (2015). Mitigation of Pb Induced Forest Dieback in Sri Lanka: Use of Soil organic Matter. International Conference on Agricultural, Ecological and Medical Sciences (AEMS-2015), Feb. 10-11, 2015 Penang (Malaysia).
Bandara, T., Hewage, B., Herath, I., Kumarathilaka, P., Yapa, P., Wekumbura, C., Rajakaruna, P., Dissanayake, S., Vithanage, M. (2014). Role of Woody Biochar on Soil Microbial Activities, Organic Fraction and Heavy Metal Immobilization in Serpentne Soil. Proceedings 2nd International Symposium on Driving Research Towards Economy Opportunites & Challenges. November 13-14, Sri Lanka Academy of Young Scientists (SLAYS).
Somaratne, R., Yapa, P. I. and Yapa, P. N. (2013). Use of different carrier materials for culture and storage of native forest soil microorganisms. In: Proceedings of the 3rd International Conference on Ecological Environmental and Biological Sciences (ICEEBS'2013). Planetary Research Centre, Singapore. 29-30 April 2013
---
Completed Research Projects
"Soil contamination from polycyclic hydrocarbons (PAHs) in New South Wales, Australia", P. I. Yapa (PI), Endeavour, Australia (2014), SL Rs. 0.8 million.
"Mapping of ecologically friendly agricultural practices of civil society organizations and other stakeholders", P. I. Yapa (PI), Oxfam Australia, 15 Rohini Rd, Colombo 05 (2012 - 2013), SL Rs. 0.75 million.
"Use of Natural Microbial Cultures (Jeevamurthum) and Bio-Char for the Refurbishment of the Soils of Eco-Farms in Hambanthota", P. I. Yapa (PI), New Environment Resources Alliance (NEWERA), Sooriyaweva (2011-2013), SL Rs. 3.8 million.
"Towards sustainable agriculture: A sweeping change of Sri Lankan Farming", P. I. Yapa (PI), (Movement for Land and Agricultural Reform) MONLAR (2011 – 2013), SL Rs. 8.8 million.
"Soil nutrient imbalance and forest Dieback in Horton Plains", P. I. Yapa (PI), University Research Grant, Sabaragamuwa University (2011-2012), SL Rs. 0.2 million.
"Establishment of natural indigenous species in dieback areas in Horton Plains National Park", P. I. Yapa (PI), Protected Area Management (PAM) competitive grant from ADB (2008-2012), SL Rs. 1.45 million.
---
Consultancies
Founder and Director, Centre for Ecological Agriculture Research and Development, Sabaragamuwa University of Sri Lanka – February 2016 to date
Consultant, Ecological Agriculturist, Presidential Secretariat, Sri Lanka – 2016/2017
Consultant, Ministry Environment and Natural resources – 2010 to date
Consultant, New Environmental Resources Alliance – 2008 to date
Director, Movement of National Land Reforms – 2010/2013
---
Any Other
Outreach Programmes
---